Company
The dedication and specialization of Vitberc are design, development, manufacture and start-up of systems for vitrified enamelled steel cookware production.
Vitberc professional team has more than 20 years of experience in national and international projects with leading producers of enamelled steel cookware.
Vitberc production system's excellent productivity and quality, united with less production and maintenance expense, make it overcome the highest international standards of enameled cookware fabrication in an overwhelming manner.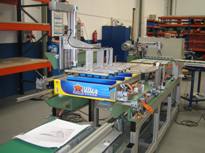 All these knowledge and achieved experience, joint together, give as a result a technology able to produce one piece each 5 seconds.
Always in synergy with our client and on base of our specialists' knowledge and experience, we customize implementations.